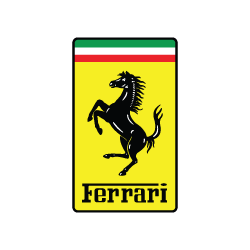 Karosserie has over thirty years of experience in servicing the Ferrari marque, and has been cited by Automobile magazine as one of the "Great Ferrari Garages" in America. This extended number of years has provided us with intimate knowledge of the details of most Ferrari models, giving us a proficiency in both collision repairs and full restorations.
Every year we perform over one-hundred collision repairs, ranging from minor dents to significant frame and body damage on both new and old Ferraris. Our years of accumulated knowledge, has allowed us the opportunity to create a vast database of information regarding panel shape and fit, frame design and measurement, sources of original Ferrari materials unavailable to most shops, and innumerable subtle details. This knowledge combined with our high tech facilities and exceptional craftsmen yield a collision repair that is not only undetectable but fully authentic. These elements are essential in maintaining the high value of your Ferrari.
The same craftsmen at Karosserie who perform the restorations, also apply their skills of metal straightening, lead finishing, and panel fabrication to all Ferrari collision repairs. Our factory trained technicians are not only practiced in old work techniques of metal straightening but also in repairs of composites and high technology aluminum alloy chassis construction.
Our attention to detail has created a paint department which is unparalleled in the field of exotics and restorations. Years of developing test panels and paint formulas allow us to precisely match both color and finish. Solicited by Motoringmagazine, Karosserie was featured in their article "How to Paint a Ferrari."
Allow us to utilize our years of experience, high tech facilities, and talent to restore your Ferrari to its original splendor.